Upcoming Artists 
MBRASCATU – Saturday April 8, 2017 at 8:00pm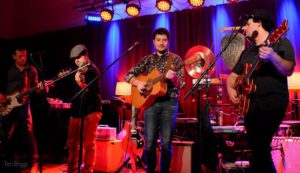 A musical product of the creative melting pot of Portland, Mbrascatu is an indie rock band that draws from diverse European and American roots to create a unique signature sound.
Blending together dynamics ranging from delicate to explosive; expressive Italian lyrics; hook-laden melodies; inventive arrangements; and energetic rhythms to dance to; the band has performed extensively throughout the Pacific Northwest, delighting audiences at the hottest music venues, outdoor festivals, bars, clubs and local radio stations.
Andrea Algieri: Guitar, Vocals, Songwriting. Dylan Dean: Violin, Viola. John Sabestinas: Electric Guitar, Banjo, Ukulele, Lap Steel. Tim Anderson: Bass. Mark Powers: Drums.
"Great news, Oregon: we can visit Italy without ever leaving the Pacific Northwest. Local Portland band, Mbrascatu, lives right here and we can take a trip to the other side of the world simply by listening to their newest savory album, Tempo. Bandleader, Andrea Algieri puts his heart and passion into every song he writes and sings on this album. The other band members- Johnny Sabestinas, Dylan Dean, Dan Sullivan and Lalo Esparza- lend their individual musical energies that also take the music to a new level of appreciation. Sabestinas plays an impressive array of different instruments ranging from ukulele to mandolin to electric guitar. Dean plays his fiddle in a way where you can feel the warmth of his ever-present smile in each song. This is the band's second offering and although it doesn't include as many ballads as their self-titled album, you will enjoy the rocking goodness found in almost every track. The tittle track will have you dancing and singing along after just one listen. So, go ahead. Pour yourself a little limoncello, eat a few olives and figs, hit 'play' and you are all set. Ciao!" – DENNISE KOALCZYK Oregon Music News Magazine. December 2014
David Jacobs-Strain & Bob Beach – Saturday June 3, 2017 at 8:00pm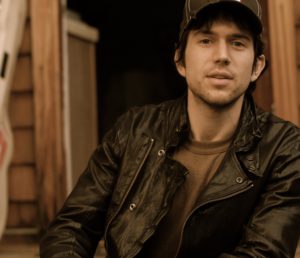 David Jacobs-Strain is a fierce slide guitar player, and a song poet from Oregon. He's known for both his virtuosity and spirit of emotional abandon; his live show moves from humorous, subversive blues, to delicate balladry, and then swings back to swampy rock and roll. It's a range that ties Jacobs-Strain to his own generation and to guitar-slinger troubadours like Robert Johnson and Jackson Browne. "I try to make art that you can dance to, but I love that darker place, where in my mind, Skip James, Nick Drake, and maybe Elliot Smith blur together." His new album, "Geneseo," speaks of open roads, longing hearts and flashbacks of Oregon– a record of emotions big and small, and lyrics that turn quickly from literal to figurative. "I'm fascinated by the way that rural blues inscribes movement and transience. The music that frees a singer keeps them on the run; there's a crossroads where a thing can be enchanting but dangerous; damaging but beautiful."
Jacobs-Strain began playing on street corners and at farmers markets as a teenager, and bought his first steel guitar with the quarters he saved up. Before he dropped out of Stanford to play full time, he had already appeared at festivals across the country, often billed as a blues prodigy, but he had to fight to avoid being a novelty act: "I wanted to tell new stories, it just wasn't enough to relive the feelings in other people's music."
David Jacobs-Strain has appeared at festivals from British Columbia to Australia, including Merlefest, Telluride Blues Festival, Philadelphia Folk Festival, Hardly Strictly, Bumbershoot, and Blues to Bop in Switzerland. He's taught at Jorma Kaukonen's Fur Peace Ranch, and at fifteen years old was on the faculty at Centrum's Blues and Heritage workshop. On the road, he's shared the stage with Lucinda Williams, Boz Scaggs (more than 60 shows), Etta James, The Doobie Brothers, George Thorogood, Robert Earle Keen, Todd Snider, Taj Mahal, Janis Ian, Tommy Emmanuel, Bob Weir, T-Bone Burnett, and Del McCoury.
"His albums are slow burning wonders…" – POPMATTERS
"This kid's gonna be a superstar and I want a cut on hisnext album" – TODD SNIDER
Bob Beach has been a working professional musician for more than 40 years, adding harmonica, flute and vocals to a broad scope of genres. A native Philadelphian, Bob relocated to Western PA after high school. From 1976 to 1997 Bob worked in bands and other musical projects based in the city of Pittsburgh. Since returning to Philadelphia in 1997 Bob has been a vital part of the local music scene. A volunteer at the Philadelphia Folk Fest since 1998 Bob has also has also performed at the fest many times since 2002. David and Bob recently released "Live From the Left Coast" recorded in Eugene, Oregon. Bob also is a sound engineer at The World Café Live music venue and books artists for the Lansdowne Folk Club, Concerts at the Beach House and other events and venues in the Philadelphia area.
www.DavidJacobs-Strain.com
David Jacobs-Strain Videos
David Jacobs-Strain and Bob Beach Video
Piedmont Melody Makers – Saturday June 24, 2017 at 8:00pm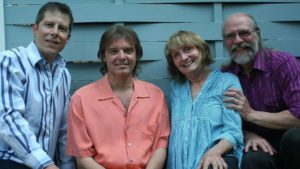 The Piedmont Melody Makers play old-time, country and bluegrass music and make no apologies for it. They take their name from the Piedmont region of eastern North Carolina, where three-quarters of the band now reside. One-quarter of the band is a known vagabond.
Cliff Hale is from West Virginia and that says something right there. He likes beer and ramps and collects all sorts of wild mushrooms. He's fit and lean, keeps his hair pretty short and sings all them other singers into the next county. He puts fear into a man's heart and lust into a woman's when he sings, because that's what happens when you are a profound blend of Hank Williams, Lefty Frizzell and Carter Stanley all in one voice.
Chris Brashear comes from the state that begat Mark Twain and John Hartford, but he isn't nearly as funny as the first and he never learned to fiddle and dance at the same time (like the second). He does, however, play the fiddle pretty passably, as well as the guitar and mandolin, and sings a pure, clear tenor that would make Alfalfa weep. He'll also pen a good song or two for every Melody Maker's set, with no apparent navel-gazing anywhere to be found. There are no signs of therapy in his future — or his past, for that matter.
Alice Gerrard a 2015 Grammy nominee for her album, Follow the Music – is the agile force, the gravitas, that keeps the Piedmont Melody Makers from being just good hitting baseball with the occasional base stealing. She's the grand-slam, thank you Ma'am. Alice is a kind of bluegrass and old-time music royalty, establishing herself in the music world by her famous duet with Hazel Dickens. She writes songs and she sings 'em with all the swoops and bluesy twirls – that is all soul and no flash. She knows what she is doing and she taught you too, even if you don't know it. Pay attention.
Jim Watson sings and plays mandolin, bass and guitar. This irrepressible reprobate is still out there playing music after catapulting into international stardom with the original Red Clay Ramblers and then orbiting planet Earth with Robin and Linda Williams. He is the heir-apparent to Charlie Poole as THE exponent of North Carolina hillbilly music, and Charlie could not have chosen a more worthy successor. He is the senior male member of this great conflagration, but don't be fooled: he can put both of them other boys under the table in the weight room. So there.