Upcoming Artists 
Jeff Scroggins and Colorado – Saturday October 14, 2017 at 8:00pm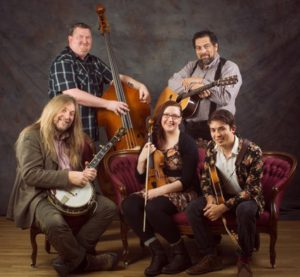 Jeff Scroggins & Colorado is a high-energy five-piece bluegrass band located in the Western Frontier state of Colorado. Their distinctive sound showcases an eclectic range of influences that marry second and third generation bluegrass, delivering a unique experience that captivates audiences and keeps them guessing: It's a powerful, high mountain "bluegrass explosion" that features world-class banjo and mandolin playing, incredible vocals, a solid and energetic rhythm and an easy stage banter that has delighted listeners all over the world.
Fronted by internationally acclaimed two-time National Banjo Champion ​Jeff Scroggins, their distinct style is immediately recognizable due to Jeff's unique and diverse range of influences, which include Alan Munde, Don Reno, Jimmy Page and Eric Clapton. His fiery style and lightning-fast licks have earned him worldwide recognition and have left many a first-time listener in stunned disbelief!
The band also features the award-winning mandolin playing of Jeff's son Tristan Scroggins. At only 21 years old, Tristan is an award-winning instrumentalist and accomplished songwriter in his own right while the instrumentals he shares with Jeff play a large role in the band's unique and energetic style. In 2016, Tristan was nominated for the Instrumental Momentum Award by the International Bluegrass Music Association . West Virginia native Greg Blake provides powerful bluegrass vocals steeped in country heritage, bringing a truly authentic sound developed from a lifetime of singing bluegrass, gospel, and country. Twice nominated for the Society for the Preservation of Bluegrass Music in America's (SPBGMA) "Traditional Male Vocalist of the Year" award, Greg's phenomenal guitar playing has earned him nine nominations and five consecutive wins as SPBGMA's Guitarist of the Year. They are joined by Oregon native, 2016 Rockygrass Fiddle Champion and 2016 Arizona State Fiddle Champion Ellie Hakanson on fiddle and vocals. In addition to their individual accomplishments, the band was featured as the California Bluegrass Association's Emerging Artist of the year, an honor given into the past to bands such as Della Mae, and Chris Henry & the Hardcore Grass.
"Jeff Scroggins may not be a household name, but he should be" – BLUEGRASS UNLIMITED, OCTOBER ISSUE
"4 and 1/2 Stars (out of 5)….[Ramblin' Feels Good] goes into my "best" pile. There's not a throwaway track on it — really good music." – LARRY STEPHENS, LONESOME ROAD REVIEW
www.JeffScrogginsAndColorado.com
Videos
Kimo Hussey – Saturday November 11, 2017 at 8:00pm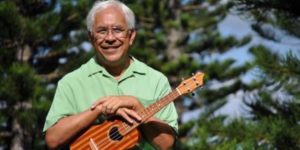 In an interview with Mike Lynch of AllThingsUkulele.com, Kimo talked about his life and love of Ukulele…  "Through instructional efforts of the only ukulele instructor (My uncle Richard) I've ever had, I started playing at the age of 5. Throughout my entire life playing ukulele has always been about having fun and not about gaining mastery of the instrument through academic endeavor. In college, I majored in music with an emphasis in choral conduction as I had grown to love church music, especially performed by choirs. Eventual entry into the US Air Force to avoid the draft turned into a full-time career I so enjoyed bu also mean music was put on the back burner——until my eventual retirement. As now I am fully retired, I've totally embrace the ongoing ukulele renaissance and spend most of my time doing workshops and whatever I think is best to nurture ukulele's continued growth."
"I love to play, teach and nurture as best I can —- so therefore pursue any opportunity which affords me the means of doing this. One of my favorite activities is
to travel to ukulele workshops and events around the world not only to feed the resurgence but to meet other players as well."
"Regarding playing ukulele, I love to push the envelope and embrace different styles or methodologies of play to assure the instrument's continued growth. A big part of this is meeting and interfacing with ukulele makers so I know I play the latest technology instruments. They look better, sound better and are much easier to play. Yes, they do cost more but are worth every dime spent."
"If you're looking for someone to inspire your ukulele playing you couldn't do much better than Kimo Hussey. He's about the smoothest and classiest ukulelist around." – UKULELE HUNT (UkuleleHunt.com)
""Kimo Hussey is one of Hawaii's preeminent ukulele players and instructors. Combining his love of the ukulele with his knowledge, experience and confidence, Kimo's ability to impart knowledge relevant to technique, practice and having fun is unmatched." – JIM D'VILLE (PlayUkuleleByEar.com)
www.UkuleleReview.com
Video
FaceBook
Ukulele Workshop with Kimo Hussey – Sunday November 12, 2017 at 1:00pm
Hawaiian Ukulele Master Kimo Hussey will be conducting a ukulele workshop at the Pistol River Friendship from 1 to 3 on Nov 12th, 2017.
Known world wide as an "Ambassador of Ukulele" Kimo's workshops inspire, entertain and enlighten all who attend.
Highly recommended for "All Levels".
Cost for the 2 hour workshop is $20. Contact Les Stansell for details or to reserve your space.  les@stansellguitars.com 541/247-7636
The Special Consensus – Saturday January 20, 2018 at 8:00pm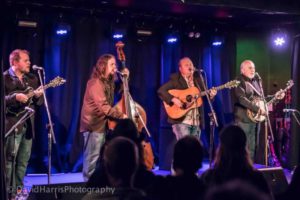 Special Consensus is a superb bluegrass outfit in a classic vein but with more than enough modern sensibilities to attract every ear in this now pleasantly fractionating genre. The vocals are spotless, the playing as shiny as a newly minted penny, and music like this is the reason people come to love bluegrass… Special Consensus approaches this hallowed American musical form with boundless energy and an aesthetic reverence that tickles the ribs, tugs at the heart, and puts a restless two-step in boots and bare feet…
Formed in the Chicago area in 1975, The Special Consensus is a four-person acoustic bluegrass band with a repertoire that features traditional bluegrass standards, original compositions by band members and professional songwriters, and songs from other musical genres performed in the bluegrass format. The band has released 18 recordings and has appeared on numerous National Public Radio programs and cable television shows, including The Nashville Network and the Grand Ole Opry at the historic Ryman Auditorium in Nashville, Tennessee. International tours have brought the band to Australia, Canada, Europe, South America, Ireland and the United Kingdom. The Special C has appeared in concert with many symphony orchestras nationwide and has brought an informative in-school presentation to schools nationally and internationally since 1984.
"Yes, Special Consensus may be Chicago's very own veteran bluegrass band, but talent like this is the property of the world" – DAVID ROYKO; CHICAGO TRIBUNE
"Special Consensus exceeded our expectations as artists-in-residence. Your Traditional American Music program for the schools was well conceived and masterfully performed. Your community outreach mini-concerts were great fun and resulted in promoting ticket sales to the capstone concert. You earned the well-deserved standing ovation you received during the capstone concert" – ROCHESTER CIVIC MUSIC; ROCHESTER, MN