Upcoming Artists 
Johnny B Connolly and Casey Neill – Saturday June 30, 2018 at 8:00pm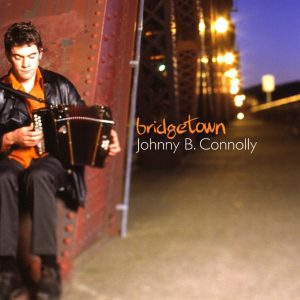 Although still in his twenties, Johnny B. Connolly has already generated a reputation as an exciting and accomplished button accordionist. Johnny's talents have paved the way across continents and provided him opportunities to perform or record with many internationally renowned artists including Kevin Burke, the Chieftains, Anam, Martin Hayes and Altan. His debut album Bridgetown (Green Linnet) was called "the most exciting solo debut from an Irish artist in years" by The Irish Herald — "a must-have CD for all true lovers of Irish box playing."
Singer Casey Neill's bona fides range from indie-rock to Celtic music: He's collaborated in various ways with Solas, The Minus 5, Black Prairie and The Decemberists, among others.
In the late '90s, Neill was featured on a Pete Seeger tribute album alongside Bruce Springsteen, Billy Bragg and Bonnie Raitt. Neill's full-time band, the Portland, Oregon-based Norway Rats, features some of the city's most sought-after and respected musicians. But for his Mountain Stage debut, he plays two solo songs and another pair backed by the Mountain Stage Band. His latest album is titled All You Pretty Vandals.
"This is the most exciting solo debut album from an Irish artist in years…a must-have CD for all true lovers of Irish box playing." – The Irish Herald
"Bridgetown features the sounds of Johnny B. Connolly's accordion: lilting, somber, joyful, poignant. Though only 26, the Dublin-born Connolly has a masterly control over his instrument, conveying a range of emotions in 10 jigs, reels and songs." – The Irish Echo
"Johnny B. Connolly is among the best young players. Bridgetown is a delightful splash of jigs, reels, a slow air and even a whimsical, Paris-flavored musette." – Goldmine
Burning Heart Bluegrass – Saturday July 14, 2018 at 8:00pm
A 2017 CBA Showcase Band, Burning Heart Bluegrass has performed at major Bluegrass festivals in California, Arizona, and Nevada; as well as numerous Southern California venues.
Their second CD is due out this year and will feature cuts from performances at the Ford Amphitheatre in Hollywood CA and the CBA Fathers Day Bluegrass Festival in Grass Valley CA.
There is nothing like the sound of guitar, banjo, mandolin,  fiddle, and dog house base when they get into that special Bluegrass  groove. Add to that high-powered vocals and soaring harmonies and you have Burning Heart Bluegrass.
www.BurningHeartBluegrass.com
Videos
Kimo Hussey – Saturday August 11, 2017 at 8:00pm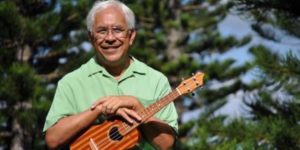 Ukulele Master Extraordinaire Kimo Hussey, returnes to Pistol River.   This Concert will be in conjunction with "The Pistol River Baritone Ukulele Retreat" (August 9 – 11).
(100%) proceeds from  the Saturday Night Concert will go to benefit the Pistol River Concert Association.  For more information about the Retreat, please contact Les Stansell at  les@stansellguitars.com
In an interview with Mike Lynch of AllThingsUkulele.com, Kimo talked about his life and love of Ukulele…  "Through instructional efforts of the only ukulele instructor (My uncle Richard) I've ever had, I started playing at the age of 5. Throughout my entire life playing ukulele has always been about having fun and not about gaining mastery of the instrument through academic endeavor. In college, I majored in music with an emphasis in choral conduction as I had grown to love church music, especially performed by choirs. Eventual entry into the US Air Force to avoid the draft turned into a full-time career I so enjoyed bu also mean music was put on the back burner——until my eventual retirement. As now I am fully retired, I've totally embrace the ongoing ukulele renaissance and spend most of my time doing workshops and whatever I think is best to nurture ukulele's continued growth."
"I love to play, teach and nurture as best I can —- so therefore pursue any opportunity which affords me the means of doing this. One of my favorite activities is
to travel to ukulele workshops and events around the world not only to feed the resurgence but to meet other players as well."
"Regarding playing ukulele, I love to push the envelope and embrace different styles or methodologies of play to assure the instrument's continued growth. A big part of this is meeting and interfacing with ukulele makers so I know I play the latest technology instruments. They look better, sound better and are much easier to play. Yes, they do cost more but are worth every dime spent."
"If you're looking for someone to inspire your ukulele playing you couldn't do much better than Kimo Hussey. He's about the smoothest and classiest ukulelist around." – UKULELE HUNT (UkuleleHunt.com)
""Kimo Hussey is one of Hawaii's preeminent ukulele players and instructors. Combining his love of the ukulele with his knowledge, experience and confidence, Kimo's ability to impart knowledge relevant to technique, practice and having fun is unmatched." – JIM D'VILLE (PlayUkuleleByEar.com)
www.UkuleleReview.com
Video
FaceBook
Flamenco Pacifico – Saturday October 13, 2018 at 8:00pm

Based in the majestic state of Oregon, Flamenco Pacifico is a dynamic, professional performance group dedicated to bringing the art of flamenco music and dance to audiences in the Pacific Northwest and beyond. Led by virtuoso flamenco guitarist and composer, Berto Boyd, the group's guitar-driven performances feature original modern flamenco compositions rooted in the time-honored forms of traditional flamenco. With inspired dancing by Elena Villa and the passionate vocals and guitar artistry of guitarist/singer Grant Ruiz, Flamenco Pacifico takes audiences on an unforgettable journey into the fascinating world of flamenco.
Flamenco is a living culture, steeped in history, with many roots and branches. Flamenco Pacifico seeks to present flamenco as a cultural event and an art form that invites creative innovation. The group offers educational lectures and demos that involve the audience and place flamenco in its compelling historical and cultural context, lending deeper meaning to the performances they share with the public.
True to the spirit of flamenco, Flamenco Pacifico's name reflects both geographical place and the idea that flamenco is expansive and inclusive enough to absorb the personal experiences and backgrounds of anyone who wants to participate in the art form. With collective musical influences as diverse as Brazilian, jazz, Western classical, and Middle Eastern, Flamenco Pacifico offers their unique version of modern flamenco with a world orientation.
What also sets this group apart artistically is that their music is based around melodic themes–both in Berto Boyd's original compositions and in the group's arrangements of traditional pieces. These thematic elements function as landmarks on the listener's journey through a musical landscape that can be haunting and deeply moving, due in no small part to the spine-tingling duende, or trance-like spirit unleashed by the music. The festive strains of many of Boyd's lighter, or chico, compositions also assure that even after the last chords of the guitar have faded, audiences will walk away from the performance with an infectious melody in their ears.
Flamenco Pacifico has performed in a variety of venues–from intimate house concerts to major festivals such as The Britt Festival (Jacksonville, OR), Party on the Plaza (Hult Center-Eugene, OR), The Oregon Shakespeare Festival's popular Green Show (Ashland, OR), and the Oregon Country Fair. They are available for public and private events, festivals and educational lectures and demonstrations.
www.FlamencoPacifico.com
Videos
Marley's Ghost – Saturday November 10, 2018 at 8:00pm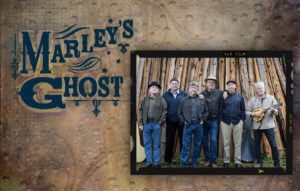 On the heels of The Woodstock Sessions, its rootsy collaboration with producer Larry Campbell to celebrate the band's 30th anniversary, Marley's Ghost returned to the studio with Campbell to continue the chemistry. The result is a joyful and resonant album of gospel roots featuring the band's trademark multi-part harmonies to be released in 2017. Bracketed by these two buoyant musical adventures, the band will be featuring tunes from both albums.
"Thirty years into their career, Marley's Ghost is like a well-worn leather jacket. You can admire their tenure intelectually, but up-close, with your ears, you can't help but be moved by the effortless music that tenure has produced." – No Depression
"The band's breadth, interpersonal chemistry and instrumental skills create performance from the seemingly simpler act of music making. "Seemingly," because it's anything but simple for skills to be so completely second nature." – Hyperbolium
"The Woodstock Sessions is an album that can best be described as nothing less than delightful . . . a collection of songs that are simply flawless . . . impeccable musicianship and acclaimed harmonies . . . a beautifully cohesive and enjoyable collection that recalls the past while remaining distinctly current." – The Daily County
"There are lots of artists and bands playing roots music these days. But very few who can begin to capture the genuine sound these guys have. These thirteen tracks have true resonance and personality, inspirational to a whole new generation of musicians." – Babysue