Upcoming Artists 
David Jacobs-Strain & Bob Beach – Saturday June 3, 2017 at 8:00pm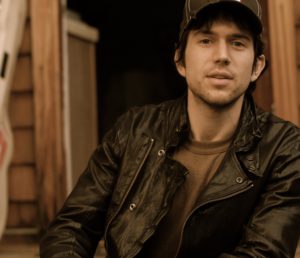 David Jacobs-Strain is a fierce slide guitar player, and a song poet from Oregon. He's known for both his virtuosity and spirit of emotional abandon; his live show moves from humorous, subversive blues, to delicate balladry, and then swings back to swampy rock and roll. It's a range that ties Jacobs-Strain to his own generation and to guitar-slinger troubadours like Robert Johnson and Jackson Browne. "I try to make art that you can dance to, but I love that darker place, where in my mind, Skip James, Nick Drake, and maybe Elliot Smith blur together." His new album, "Geneseo," speaks of open roads, longing hearts and flashbacks of Oregon– a record of emotions big and small, and lyrics that turn quickly from literal to figurative. "I'm fascinated by the way that rural blues inscribes movement and transience. The music that frees a singer keeps them on the run; there's a crossroads where a thing can be enchanting but dangerous; damaging but beautiful."
Jacobs-Strain began playing on street corners and at farmers markets as a teenager, and bought his first steel guitar with the quarters he saved up. Before he dropped out of Stanford to play full time, he had already appeared at festivals across the country, often billed as a blues prodigy, but he had to fight to avoid being a novelty act: "I wanted to tell new stories, it just wasn't enough to relive the feelings in other people's music."
David Jacobs-Strain has appeared at festivals from British Columbia to Australia, including Merlefest, Telluride Blues Festival, Philadelphia Folk Festival, Hardly Strictly, Bumbershoot, and Blues to Bop in Switzerland. He's taught at Jorma Kaukonen's Fur Peace Ranch, and at fifteen years old was on the faculty at Centrum's Blues and Heritage workshop. On the road, he's shared the stage with Lucinda Williams, Boz Scaggs (more than 60 shows), Etta James, The Doobie Brothers, George Thorogood, Robert Earle Keen, Todd Snider, Taj Mahal, Janis Ian, Tommy Emmanuel, Bob Weir, T-Bone Burnett, and Del McCoury.
"His albums are slow burning wonders…" – POPMATTERS
"This kid's gonna be a superstar and I want a cut on hisnext album" – TODD SNIDER
Bob Beach has been a working professional musician for more than 40 years, adding harmonica, flute and vocals to a broad scope of genres. A native Philadelphian, Bob relocated to Western PA after high school. From 1976 to 1997 Bob worked in bands and other musical projects based in the city of Pittsburgh. Since returning to Philadelphia in 1997 Bob has been a vital part of the local music scene. A volunteer at the Philadelphia Folk Fest since 1998 Bob has also has also performed at the fest many times since 2002. David and Bob recently released "Live From the Left Coast" recorded in Eugene, Oregon. Bob also is a sound engineer at The World Café Live music venue and books artists for the Lansdowne Folk Club, Concerts at the Beach House and other events and venues in the Philadelphia area.
www.DavidJacobs-Strain.com
David Jacobs-Strain Videos
David Jacobs-Strain and Bob Beach Video
Piedmont Melody Makers – Saturday June 24, 2017 at 8:00pm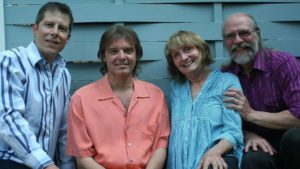 The Piedmont Melody Makers play old-time, country and bluegrass music and make no apologies for it. They take their name from the Piedmont region of eastern North Carolina, where three-quarters of the band now reside. One-quarter of the band is a known vagabond.
Cliff Hale is from West Virginia and that says something right there. He likes beer and ramps and collects all sorts of wild mushrooms. He's fit and lean, keeps his hair pretty short and sings all them other singers into the next county. He puts fear into a man's heart and lust into a woman's when he sings, because that's what happens when you are a profound blend of Hank Williams, Lefty Frizzell and Carter Stanley all in one voice.
Chris Brashear comes from the state that begat Mark Twain and John Hartford, but he isn't nearly as funny as the first and he never learned to fiddle and dance at the same time (like the second). He does, however, play the fiddle pretty passably, as well as the guitar and mandolin, and sings a pure, clear tenor that would make Alfalfa weep. He'll also pen a good song or two for every Melody Maker's set, with no apparent navel-gazing anywhere to be found. There are no signs of therapy in his future — or his past, for that matter.
Alice Gerrard a 2015 Grammy nominee for her album, Follow the Music – is the agile force, the gravitas, that keeps the Piedmont Melody Makers from being just good hitting baseball with the occasional base stealing. She's the grand-slam, thank you Ma'am. Alice is a kind of bluegrass and old-time music royalty, establishing herself in the music world by her famous duet with Hazel Dickens. She writes songs and she sings 'em with all the swoops and bluesy twirls – that is all soul and no flash. She knows what she is doing and she taught you too, even if you don't know it. Pay attention.
Jim Watson sings and plays mandolin, bass and guitar. This irrepressible reprobate is still out there playing music after catapulting into international stardom with the original Red Clay Ramblers and then orbiting planet Earth with Robin and Linda Williams. He is the heir-apparent to Charlie Poole as THE exponent of North Carolina hillbilly music, and Charlie could not have chosen a more worthy successor. He is the senior male member of this great conflagration, but don't be fooled: he can put both of them other boys under the table in the weight room. So there.
Ray Bonneville – Saturday August 19, 2017 at 8:00pm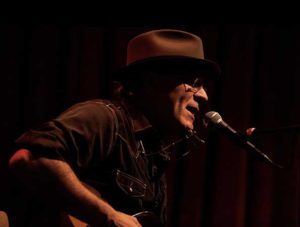 Ray Bonneville is a poet of the demimonde who didn't write his first song until his early 40s, some 20 years after he started performing. But with a style that sometimes draws comparisons to JJ Cale and Daniel Lanois, this blues-influenced, New Orleans-inspired "song and groove man," as he's been so aptly described, luckily found his rightful calling.  Born in Quebec, his family moved to Boston when he was 12. He served a year in Vietnam as a Marine, struggled and overcame drug addiction, earned a pilot's license in Colorado, then moved to Alaska, then Seattle, and Paris and New Orleans. But it took a close call while piloting a seaplane across the Canadian wilderness to make him decide it was time to get busy writing songs – gritty narratives inspired by a lifetime of hard-won knowledge set against his gritty, soulful guitar and harmonica playing.
He's since earned many accolades, including a Juno Award for his 1999 album, Gust of Wind. His post-Katrina ode, "I Am the Big Easy," earned the International Folk Alliance's 2009 Song of the Year Award, and in 2012, Bonneville won the solo/duet category in the Blues Foundation's International Blues Challenge. He has guested on albums by Mary Gauthier, Gurf Morlix, Eliza Gilkyson, Ray Wylie Hubbard and other prominent artists, and shared songwriting credits with Tim O'Brien, Phil Roy and Morlix, among others. Slaid Cleaves placed Bonneville's "Run Jolee Run" on his lauded 2009 album, Everything You Love Will Be Taken Away.
Easy Gone, Ray's fourth album for Red House Records,  takes listeners to some of the dark spaces and exotic places Bonneville has gone on his own travels. An Austin resident since 2006, Bonneville still puts the rhythms and soul of New Orleans into much of his music. His songs carry a groove and momentum that's uniquely his — and will always be a part of him, no matter where he roams.
"Like gunpowder and opium." – RAY WYLIE HUBBARD
"an absolute master…one of the most skilled songwriters of that dark slow smoldering yet fiery blues/roots music" – FAME
Jeff Scroggins and Colorado – Saturday October 14, 2017 at 8:00pm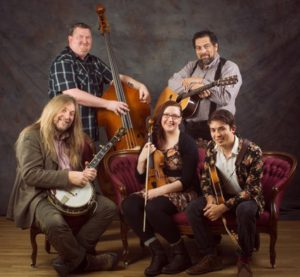 Jeff Scroggins & Colorado is a high-energy five-piece bluegrass band located in the Western Frontier state of Colorado. Their distinctive sound showcases an eclectic range of influences that marry second and third generation bluegrass, delivering a unique experience that captivates audiences and keeps them guessing: It's a powerful, high mountain "bluegrass explosion" that features world-class banjo and mandolin playing, incredible vocals, a solid and energetic rhythm and an easy stage banter that has delighted listeners all over the world.
Fronted by internationally acclaimed two-time National Banjo Champion ​Jeff Scroggins, their distinct style is immediately recognizable due to Jeff's unique and diverse range of influences, which include Alan Munde, Don Reno, Jimmy Page and Eric Clapton. His fiery style and lightning-fast licks have earned him worldwide recognition and have left many a first-time listener in stunned disbelief!
The band also features the award-winning mandolin playing of Jeff's son Tristan Scroggins. At only 21 years old, Tristan is an award-winning instrumentalist and accomplished songwriter in his own right while the instrumentals he shares with Jeff play a large role in the band's unique and energetic style. In 2016, Tristan was nominated for the Instrumental Momentum Award by the International Bluegrass Music Association . West Virginia native Greg Blake provides powerful bluegrass vocals steeped in country heritage, bringing a truly authentic sound developed from a lifetime of singing bluegrass, gospel, and country. Twice nominated for the Society for the Preservation of Bluegrass Music in America's (SPBGMA) "Traditional Male Vocalist of the Year" award, Greg's phenomenal guitar playing has earned him nine nominations and five consecutive wins as SPBGMA's Guitarist of the Year. They are joined by Oregon native, 2016 Rockygrass Fiddle Champion and 2016 Arizona State Fiddle Champion Ellie Hakanson on fiddle and vocals. In addition to their individual accomplishments, the band was featured as the California Bluegrass Association's Emerging Artist of the year, an honor given into the past to bands such as Della Mae, and Chris Henry & the Hardcore Grass.
"Jeff Scroggins may not be a household name, but he should be" – BLUEGRASS UNLIMITED, OCTOBER ISSUE
"4 and 1/2 Stars (out of 5)….[Ramblin' Feels Good] goes into my "best" pile. There's not a throwaway track on it — really good music." – LARRY STEPHENS, LONESOME ROAD REVIEW
www.JeffScrogginsAndColorado.com
Videos
Kimo Hussey – Saturday November 11, 2017 at 8:00pm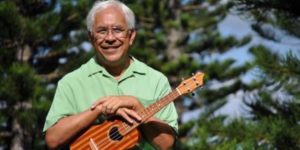 In an interview with Mike Lynch of AllThingsUkulele.com, Kimo talked about his life and love of Ukulele…  "Through instructional efforts of the only ukulele instructor (My uncle Richard) I've ever had, I started playing at the age of 5. Throughout my entire life playing ukulele has always been about having fun and not about gaining mastery of the instrument through academic endeavor. In college, I majored in music with an emphasis in choral conduction as I had grown to love church music, especially performed by choirs. Eventual entry into the US Air Force to avoid the draft turned into a full-time career I so enjoyed bu also mean music was put on the back burner——until my eventual retirement. As now I am fully retired, I've totally embrace the ongoing ukulele renaissance and spend most of my time doing workshops and whatever I think is best to nurture ukulele's continued growth."
"I love to play, teach and nurture as best I can —- so therefore pursue any opportunity which affords me the means of doing this. One of my favorite activities is
to travel to ukulele workshops and events around the world not only to feed the resurgence but to meet other players as well."
"Regarding playing ukulele, I love to push the envelope and embrace different styles or methodologies of play to assure the instrument's continued growth. A big part of this is meeting and interfacing with ukulele makers so I know I play the latest technology instruments. They look better, sound better and are much easier to play. Yes, they do cost more but are worth every dime spent."
"If you're looking for someone to inspire your ukulele playing you couldn't do much better than Kimo Hussey. He's about the smoothest and classiest ukulelist around." – UKULELE HUNT (UkuleleHunt.com)
""Kimo Hussey is one of Hawaii's preeminent ukulele players and instructors. Combining his love of the ukulele with his knowledge, experience and confidence, Kimo's ability to impart knowledge relevant to technique, practice and having fun is unmatched." – JIM D'VILLE (PlayUkuleleByEar.com)
www.UkuleleReview.com
Video
FaceBook
The Special Consensus – Saturday January 20, 2018 at 8:00pm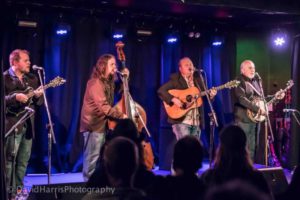 Special Consensus is a superb bluegrass outfit in a classic vein but with more than enough modern sensibilities to attract every ear in this now pleasantly fractionating genre. The vocals are spotless, the playing as shiny as a newly minted penny, and music like this is the reason people come to love bluegrass… Special Consensus approaches this hallowed American musical form with boundless energy and an aesthetic reverence that tickles the ribs, tugs at the heart, and puts a restless two-step in boots and bare feet…
Formed in the Chicago area in 1975, The Special Consensus is a four-person acoustic bluegrass band with a repertoire that features traditional bluegrass standards, original compositions by band members and professional songwriters, and songs from other musical genres performed in the bluegrass format. The band has released 18 recordings and has appeared on numerous National Public Radio programs and cable television shows, including The Nashville Network and the Grand Ole Opry at the historic Ryman Auditorium in Nashville, Tennessee. International tours have brought the band to Australia, Canada, Europe, South America, Ireland and the United Kingdom. The Special C has appeared in concert with many symphony orchestras nationwide and has brought an informative in-school presentation to schools nationally and internationally since 1984.
"Yes, Special Consensus may be Chicago's very own veteran bluegrass band, but talent like this is the property of the world" – DAVID ROYKO; CHICAGO TRIBUNE
"Special Consensus exceeded our expectations as artists-in-residence. Your Traditional American Music program for the schools was well conceived and masterfully performed. Your community outreach mini-concerts were great fun and resulted in promoting ticket sales to the capstone concert. You earned the well-deserved standing ovation you received during the capstone concert" – ROCHESTER CIVIC MUSIC; ROCHESTER, MN