Upcoming Artists 
Kimo Hussey – Saturday August 11, 2017 at 8:00pm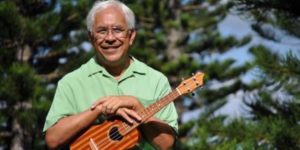 Ukulele Master Extraordinaire Kimo Hussey, returnes to Pistol River.   This Concert will be in conjunction with "The Pistol River Baritone Ukulele Retreat" (August 9 – 11).
(100%) proceeds from  the Saturday Night Concert will go to benefit the Pistol River Concert Association.  For more information about the Retreat, please contact Les Stansell at  les@stansellguitars.com
In an interview with Mike Lynch of AllThingsUkulele.com, Kimo talked about his life and love of Ukulele…  "Through instructional efforts of the only ukulele instructor (My uncle Richard) I've ever had, I started playing at the age of 5. Throughout my entire life playing ukulele has always been about having fun and not about gaining mastery of the instrument through academic endeavor. In college, I majored in music with an emphasis in choral conduction as I had grown to love church music, especially performed by choirs. Eventual entry into the US Air Force to avoid the draft turned into a full-time career I so enjoyed bu also mean music was put on the back burner——until my eventual retirement. As now I am fully retired, I've totally embrace the ongoing ukulele renaissance and spend most of my time doing workshops and whatever I think is best to nurture ukulele's continued growth."
"I love to play, teach and nurture as best I can —- so therefore pursue any opportunity which affords me the means of doing this. One of my favorite activities is
to travel to ukulele workshops and events around the world not only to feed the resurgence but to meet other players as well."
"Regarding playing ukulele, I love to push the envelope and embrace different styles or methodologies of play to assure the instrument's continued growth. A big part of this is meeting and interfacing with ukulele makers so I know I play the latest technology instruments. They look better, sound better and are much easier to play. Yes, they do cost more but are worth every dime spent."
"If you're looking for someone to inspire your ukulele playing you couldn't do much better than Kimo Hussey. He's about the smoothest and classiest ukulelist around." – UKULELE HUNT (UkuleleHunt.com)
""Kimo Hussey is one of Hawaii's preeminent ukulele players and instructors. Combining his love of the ukulele with his knowledge, experience and confidence, Kimo's ability to impart knowledge relevant to technique, practice and having fun is unmatched." – JIM D'VILLE (PlayUkuleleByEar.com)
www.UkuleleReview.com
Video
FaceBook
Evie Ladin Band – Saturday September 22, 2018 at 8:00pm

Tenacious, innovative string musicians/dancers with a pulsing neo-trad heart, the Evie Ladin Band – Evie Ladin, Keith Terry and Erik Pearson – throws down soulful folk songs with a four-dimensional live show. Grounded in Appalachian old-time repertoire, seasoned in African-diaspora roots, writing from life in modern cities, blurring the lines between music and dance, "I had no idea!" is how audiences describe the ELB's captivating concerts.
The 2012 eponymous release Evie Ladin Band won Americana Album of the Year from the Independent Music Awards Vox Pop Vote and their 2016 release JUMP THE FIRE reveals the tight trio the band has become – after many miles, and a host of new songs, a truly original sound in new old-time Americana – taking home the silver from 2017 Clifftop's illustrious Neo-Trad Stringband contest.
The polyrhythmic heat of Evie's clawhammer banjo, resonant voice, real stories and rhythmic dance have been heard from A Prairie Home Companion to Celtic Connections, Lincoln Center to Hardly Strictly Bluegrass. Known as a driving force behind San Francisco's Stairwell Sisters, Evie is fluid in traditional Appalachian arts, even as she brings an urban edge and contemporary vision to her own stories, deep interpretations of old songs, contemporary percussive dance. Folk music in her family life, early urban hip hop in her teen life, diving deep into the African side of old-time country music and dance…Music, dance and song became inseparable.
Ladin's voice is sultry, wistful and defiant all at once. She possesses a keen songwriting sense and a stable of strong musicians to back her up. –POP MATTERS
Keith Terry (bass, Body Music, vocals) is a renowned percussionist/rhythm dancer, and the founder of the International Body Music Festival. A pioneer in contemporary Body Music, Keith produces large-scale intercultural collaborations and education. Keith brings a cinematic ear to playing bass as tonal percussion, with bells, box, body and toys.
Erik Pearson (guitar, banjo, vocals) is a musician's musician with the Crooked Jades, storyteller Diane Ferlatte, and his solo projects. His original banjo tune "Fork & File" was the soundtrack for a rapids rafting scene in Sean Penn's movie Into the Wild.
"You don't often hear words like "traditional," and "authentic" paired with "innovative" and "unique," but Evie Ladin has brought them together brilliantly in the self-titled, debut album, and the result is truly a high point in new old-time music." – FOLKWORKS, Los Angeles
"The best example I have seen of a Neo-Trad band's sound being authentically anchored in old time music but extending it into new and entertaining directions." – Clifftop Contest Judge
Flamenco Pacifico – Saturday October 13, 2018 at 8:00pm

Based in the majestic state of Oregon, Flamenco Pacifico is a dynamic, professional performance group dedicated to bringing the art of flamenco music and dance to audiences in the Pacific Northwest and beyond. Led by virtuoso flamenco guitarist and composer, Berto Boyd, the group's guitar-driven performances feature original modern flamenco compositions rooted in the time-honored forms of traditional flamenco. With inspired dancing by Elena Villa and the passionate vocals and guitar artistry of guitarist/singer Grant Ruiz, Flamenco Pacifico takes audiences on an unforgettable journey into the fascinating world of flamenco.
Flamenco is a living culture, steeped in history, with many roots and branches. Flamenco Pacifico seeks to present flamenco as a cultural event and an art form that invites creative innovation. The group offers educational lectures and demos that involve the audience and place flamenco in its compelling historical and cultural context, lending deeper meaning to the performances they share with the public.
True to the spirit of flamenco, Flamenco Pacifico's name reflects both geographical place and the idea that flamenco is expansive and inclusive enough to absorb the personal experiences and backgrounds of anyone who wants to participate in the art form. With collective musical influences as diverse as Brazilian, jazz, Western classical, and Middle Eastern, Flamenco Pacifico offers their unique version of modern flamenco with a world orientation.
What also sets this group apart artistically is that their music is based around melodic themes–both in Berto Boyd's original compositions and in the group's arrangements of traditional pieces. These thematic elements function as landmarks on the listener's journey through a musical landscape that can be haunting and deeply moving, due in no small part to the spine-tingling duende, or trance-like spirit unleashed by the music. The festive strains of many of Boyd's lighter, or chico, compositions also assure that even after the last chords of the guitar have faded, audiences will walk away from the performance with an infectious melody in their ears.
Flamenco Pacifico has performed in a variety of venues–from intimate house concerts to major festivals such as The Britt Festival (Jacksonville, OR), Party on the Plaza (Hult Center-Eugene, OR), The Oregon Shakespeare Festival's popular Green Show (Ashland, OR), and the Oregon Country Fair. They are available for public and private events, festivals and educational lectures and demonstrations.
www.FlamencoPacifico.com
Videos