Upcoming Artists 
Kate Power and Steve Einhorn – Saturday March 2, 2019 at 8:00pm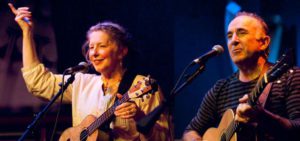 Kate and Steve have been featured as special guests on Garrison Keillor's A Prairie Home Companion. Power's song "Travis John" won the Grand Prize from Music2Life at the Kerrville Folk Festival in Texas for 'songs that make a difference' and together, Kate Power & Steve Einhorn have shared stages with many folk luminaries, including the iconic Pete Seeger and Tom Paxton.
Kate's music comes from the heart. Kate was born in Boston and came of age during the folk revival in the 60's in New York City and New Jersey and at fifteen opened shows for luminaries like Townes Van Zant and Loudon Wainwright III, and U. Utah Phillips in local coffeehouses and northeastern festivals where she established her place in the folk scene before her migration to Portland and the Pacific Northwest in 1977.
Steve Einhorn is a lifetime musician with a deep understanding of the relationship between the story and the song. Hands-on, he has been making music from an early age in the 60's in New York City to Boston and then to Portland and the Great Northwest since 1978.
In recent years, Kate and Steve have brought thousands of new players into the music making fold with their fun and easy Ukalaliens method while touring the countryside with a fleet of ukes-to-share. Their newest album, Portland Romance, was produced with Jon Neufeld (Black Prarie) and Billy Oskay (Big Red). Kate & Steve reside in Portland, Oregon.
"I am totally mesmerized by your compositions, your easy to listen to voices and great, great instrumentation. The quality of your work is outstanding. What joy you bring through your music. I would drop everything to come to hear you two." – Hal Melnick, NYC

"So earthy and fresh is your music. I love it." – Lloyd "Tommy" Doss, Sons of the Pioneers
Kathryn Claire and Friends – Saturday April 13, 2019 at 8:00pm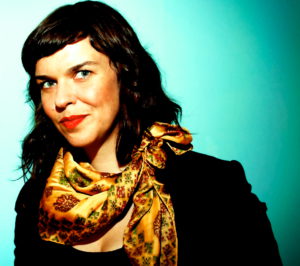 Featuring Allen Hunter (bass) Don Henson (piano/percussion) Sid Dilson (violin).
Kathryn Claire has spent years cultivating her own style and approach to music as a violinist, guitar player, singer, and songwriter. Strong fundamentals from her classical and traditional music background combined with improvisation has made her a favorite at venues, festivals and institutions around the world. She has toured and performed extensively in the US, Japan, India, Holland, Belgium and France.
In her latest album "Bones Will Last," musician and composer Kathryn Claire has created a unique collection of songs and instrumental compositions. With her violin and voice at the forefront, Kathryn is supported by Zak Borden on mandolin, Allen Hunter on upright bass, and Don Henson on piano.
"Bones Will Last" is a hopeful and heartbreaking album, exploring deeply both personal and universal themes of loss, love and transformation. Kathryn Claire skillfully weaves together stories and melodies rooted in her classical and traditional musical background. Her honest and poetic writing and her unique voice move seamlessly across genres creating an aesthetic which is original and diverse. The ten tracks on "Bones Will Last" draw from her extensive international travel over the past 10 years, and synthesize her personal and musical history.
"Claire's deep vocals combine with exquisite layered orchestrations. These dark, provocative, thoughtful songs engage the listener and elicit deep emotions."
-Amy Steele, ENTERTAINMENT REALM
"They bring to the music a vital and joyous creativity that excites even the hardest of hearts." -John Doyle, founding member of Solas.
"The instrumentals play just as profoundly, perhaps more effectively, as if stepping lightly around the graves of the forgotten and the missed."
-Carol Banks Weber, MEDIUM
"Claire's song's and instrumental arrangements, blessed with a fine back-up band, flow into one another in a highly emotional way, the instrumentals containing a dark beauty about them, while the songs burst into melodic gusto, the two continually born of one another."
-Dinah Urell, HIPFISH MONTHLY
www.KathrynClaireMusic.com
Videos
Chris Jacome Flamenco – Saturday May 11, 2019 at 8:00pm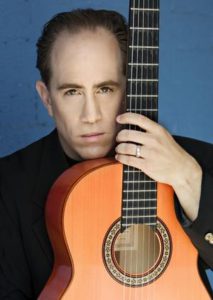 Chris B. Jácome is the artistic director and creator, Jácome Flamenco, Chris writes the music and lyrics for all of the touring company's productions and has toured extensively throughout the US and beyond.
In November of 2015, Chris' first feature film score "Just the Vampire Hunter" was released and is receiving RAVE REVIEWS!
Chris' music has received critical acclaim from the beginning of his career. From Chris' debut CD, Motivación, the title track "Motivación" finished in the Top 10 in the John Lennon Songwriting Contest World Music Category. Since his first CD's debut Chris has written and recorded three other original flamenco albums: Pa'lante, Flamenco and LEVANTO. LEVANTO features the music, lyrics and even the footwork from the flamenco spectacular by flamenco dance company, CALO FLAMENCO. TWO of Chris' original songs from LEVANTO, "Ritmo-Canix" and "Sin Ti" won the Grand Prize in the John Lennon Songwriting Contest!
"LEVANTO is fabulous flamenco that can stand alongside any created in Spain or by those inspired beyond its borders." — World Music Central.
www.ChrisBurtonJacome.com
Music