Upcoming Artists
Jimmy Grant Ensemble –
Saturday September 14 at 8:00 pm
The Jimmy Grant Ensemble performs primarily in the style of Django Reinhardt, infusing swing era pieces, original work, and traditional gypsy tunes with the jazz guitar pioneer's crunchy rhythms and hot harmonies. Jimmy Grant was recently a finalist in the John Lennon songwriting competition for his original song "Insomnia," and also had an interview with Guitar World for his "5 in 5″ project, in which he wrote five different songs in five days. His style synthesizes a rich blend of Russian folk, bluegrass, celtic and classical music while remaining true to Django's innovative guitar technique. The Jimmy Grant Ensemble will bring together two guitars, bass, and violin in an intimate yet energy-charged performance.
"…He is a player to watch and listen to if you want to know where gypsy jazz is headed…."

Nick Lehr (Diangofest Northwest)

David Jacobs Strain and Bob Beach – Saturday October 26 at 8:00 pm
David Jacobs-Strain is a fierce slide guitar player, and a song poet from Oregon. He's known for both his virtuosity and spirit of emotional abandon; his live show moves from humorous, subversive blues, to delicate balladry, and then swings back to swampy rock and roll. It's a range that ties Jacobs-Strain to his own generation and to guitar-slinger troubadours like Robert Johnson and Jackson Browne. "I try to make art that you can dance to, but I love that darker place, where in my mind, Skip James, Nick Drake, and maybe Elliot Smith blur together."
Jacobs-Strain began playing on street corners and at farmers markets as a teenager, and bought his first steel guitar with the quarters he saved up. Before he dropped out of Stanford to play full time, he had already appeared at festivals across the country, often billed as a blues prodigy, but he had to fight to avoid being a novelty act: "I wanted to tell new stories, it just wasn't enough to relive the feelings in other people's music."
Bob Beach's career has spanned more than 45 years. With his roots in blues, rock and folk, his innate feel for the music transcends genre, and can be integrated into everything from hip hop to bluegrass to kids' cabaret and more. "Bob Beach, you snuck into the tunes with us with the grace and sensitivity of an old school sax man, making everything better while calling attention to the music not yourself" Scott Ainslie, blues musician & educator.
David and Bob have been performing together since 2010. They currently perform between 70 and 100 shows a year on both east and west coasts. Their live show moves from humorous, subversive blues, to delicate balladry, and then swings back to swampy rock and roll.

David Jacobs-Strain and Bob Beach blew me away last summer at Swannanoa. As we say at home, they "knocked my hat in the creek." I can't envision the audience that could fail to take to them from the first chord and to the last. Hear them yourself as soon as you can .

Tom Paxton

McKasson and McDonald –
Saturday November 16 at 8:00 pm
Ryan McKasson and Eric McDonald are masters of tradition who purposefully explore the dark corners floating on its edges. Their individual artistry is enhanced when together. In short, the sum creates a greater whole.
The result is an alluring complexity, full of spontaneous musicality. Pulling from parallel strands of influence, they create a swirling level of intensity that traverses darkness, light, and everywhere in between. An air of mystery pervades a sound compelling enough to transcend boundaries and appeal to music lovers of all stripes.
The music this duo creates is to share, and live performance is the forte. Their mutual attitude stretches beyond the music. The two have been good friends ever since they met, and this is present in their live performances, which are full of organic banter and good humor to go along with the music. They create an environment of their own design, drawing in listeners without pretense. Despite both living active musical lives thousands of miles apart these two musicians have committed to working together to forge a new musical path.
This duo really shows how two masterful musicians listen and play off each other.

Devon Leger of Hearth Music
The Talbott Brothers –
Saturday January 11, 2020 at 8:00 pm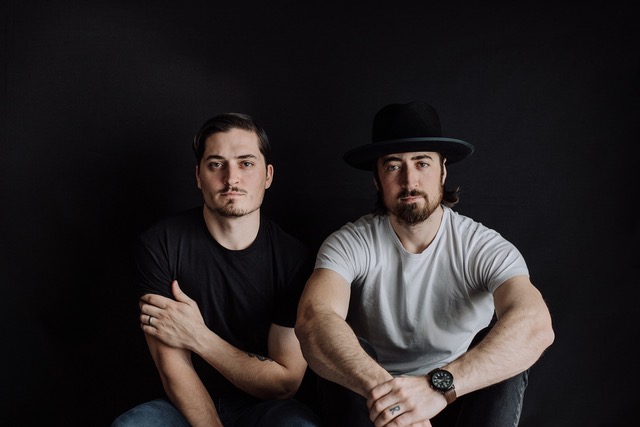 Blood is thicker than water and there's nothing like family creating music together to prove it. With contrasting blood-harmonies and left-handed/right-handed guitar playing, singer-songwriter duo The Talbott Brothers combine rock, blues and pop with honest storytelling.
Nick and Tyler were born and raised in Imperial, a small town in Southwestern Nebraska, just a stone's throw from the Colorado border. They began writing and performing together before relocating to their mother's birthplace of Portland, Oregon. Tyler, the youngest (lead vocals, baritone guitar, harmonica) and Nick, the oldest (backing vocals, lead guitar) discovered their love of music after digging their dad's old dreadnaught guitar out of the basement and teaching themselves to play along to Johnny Cash, Bob Seger and the Beatles on vinyl.
Following the release of 2017's GRAY, they found themselves in front of sold-out crowds in the US and sharing the stage with ZZ Ward, Johnnyswim and AJR. Ear to the Ground Music dubbed the record as one of the 'Top 5 Albums of the Year' stating it as, "equal parts optimistic and captivating, inspiring and hopeful." Through rigorous touring and over half a million streams on Spotify, they continue to build a strong and loyal fanbase wherever they go.
Molly's Revenge –
Saturday March 21, 2020 at 8:00 pm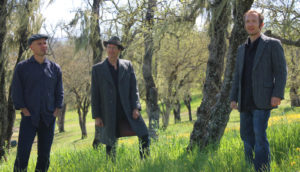 Molly's Revenge is a dynamic, acoustic Celtic band known for its unique and infectious enthusiasm. The classic combination of bagpipes, whistle, and fiddle, with a backdrop of guitar, mandola, and bodhran guarantees an enjoyable experience for all fans of Scottish and Irish music. Molly's Revenge has performed at many of the top folk festivals and performing arts events in the USA, and prestigious events in Scotland, Australia and China. Their arrangements of traditional Celtic jigs and reels bring these dance tunes up to date with a driving, hard-edged accent that always leaves audiences shouting for more.
"Revered in California as one of its most energetic, exciting and innovative bands." –Shay Black, of the legendary Black family.
"They bring to the music a vital and joyous creativity that excites even the hardest of hearts." –John Doyle, founding member of Solas.
"The instruments are traditional… but the wild passion they exhibit is thoroughly modern." –Metro Santa Cruz (CA).
"There is an engaging freshness and yet an impressive maturity in their playing." –Mick Moloney, National Heritage Award recipient.