Burning Heart Bluegrass – Saturday July 14, 2018 at 8:00pm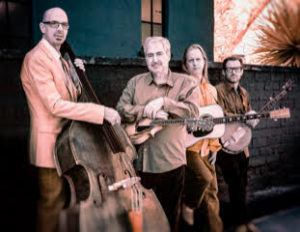 A 2017 CBA Showcase Band, Burning Heart Bluegrass has performed at major Bluegrass festivals in California, Arizona, and Nevada; as well as numerous Southern California venues.
Jeff Fleck:  Mandolin and Vocals
Devitt Feeley:  Guitar and Vocals
John Rosen:  Banjo and Vocals
Ron Vance:  Bass
Their second CD is due out this year and will feature cuts from performances at the Ford Amphitheatre in Hollywood CA and the CBA Fathers Day Bluegrass Festival in Grass Valley CA.
There is nothing like the sound of guitar, banjo, mandolin,  fiddle, and dog house base when they get into that special Bluegrass  groove. Add to that high-powered vocals and soaring harmonies and you have Burning Heart Bluegrass.