Chris Jacome Flamenco – Saturday May 11, 2019 at 8:00pm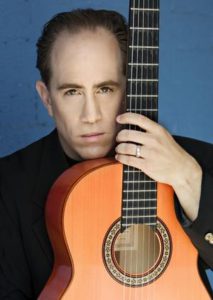 Chris B. Jácome is the artistic director and creator, Jácome Flamenco, Chris writes the music and lyrics for all of the touring company's productions and has toured extensively throughout the US and beyond.
In November of 2015, Chris' first feature film score "Just the Vampire Hunter" was released and is receiving RAVE REVIEWS!
Chris' music has received critical acclaim from the beginning of his career. From Chris' debut CD, Motivación, the title track "Motivación" finished in the Top 10 in the John Lennon Songwriting Contest World Music Category. Since his first CD's debut Chris has written and recorded three other original flamenco albums: Pa'lante, Flamenco and LEVANTO. LEVANTO features the music, lyrics and even the footwork from the flamenco spectacular by flamenco dance company, CALO FLAMENCO. TWO of Chris' original songs from LEVANTO, "Ritmo-Canix" and "Sin Ti" won the Grand Prize in the John Lennon Songwriting Contest!
"LEVANTO is fabulous flamenco that can stand alongside any created in Spain or by those inspired beyond its borders." — World Music Central.