Jeff Scroggins and Colorado – Saturday October 14, 2017 at 8:00pm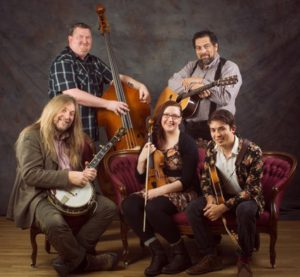 Jeff Scroggins & Colorado is a high-energy five-piece bluegrass band located in the Western Frontier state of Colorado. Their distinctive sound showcases an eclectic range of influences that marry second and third generation bluegrass, delivering a unique experience that captivates audiences and keeps them guessing: It's a powerful, high mountain "bluegrass explosion" that features world-class banjo and mandolin playing, incredible vocals, a solid and energetic rhythm and an easy stage banter that has delighted listeners all over the world.
Fronted by internationally acclaimed two-time National Banjo Champion ​Jeff Scroggins, their distinct style is immediately recognizable due to Jeff's unique and diverse range of influences, which include Alan Munde, Don Reno, Jimmy Page and Eric Clapton. His fiery style and lightning-fast licks have earned him worldwide recognition and have left many a first-time listener in stunned disbelief!
The band also features the award-winning mandolin playing of Jeff's son Tristan Scroggins. At only 21 years old, Tristan is an award-winning instrumentalist and accomplished songwriter in his own right while the instrumentals he shares with Jeff play a large role in the band's unique and energetic style. In 2016, Tristan was nominated for the Instrumental Momentum Award by the International Bluegrass Music Association . West Virginia native Greg Blake provides powerful bluegrass vocals steeped in country heritage, bringing a truly authentic sound developed from a lifetime of singing bluegrass, gospel, and country. Twice nominated for the Society for the Preservation of Bluegrass Music in America's (SPBGMA) "Traditional Male Vocalist of the Year" award, Greg's phenomenal guitar playing has earned him nine nominations and five consecutive wins as SPBGMA's Guitarist of the Year. They are joined by Oregon native, 2016 Rockygrass Fiddle Champion and 2016 Arizona State Fiddle Champion Ellie Hakanson on fiddle and vocals. In addition to their individual accomplishments, the band was featured as the California Bluegrass Association's Emerging Artist of the year, an honor given into the past to bands such as Della Mae, and Chris Henry & the Hardcore Grass.
"Jeff Scroggins may not be a household name, but he should be" – BLUEGRASS UNLIMITED, OCTOBER ISSUE
"4 and 1/2 Stars (out of 5)….[Ramblin' Feels Good] goes into my "best" pile. There's not a throwaway track on it — really good music." – LARRY STEPHENS, LONESOME ROAD REVIEW