New World String Project – Saturday January 12, 2019 at 8:00pm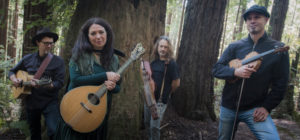 Extraordinary instruments and heartwarming music rooted in the Nordic, Celtic, and American folk traditions.
Science tells us that cross pollination can result in hybrid vigor that transcends the sum of its parts. In a parallel vein, the vibrant West Coast traditional music community has given birth to the New World String Project. Four highly skilled and well known multi-instrumentalists have joined forces to create an exciting weave of music rooted in the Celtic, Nordic and American folk traditions. Ancient and modern sounds mingle freely on Swedish nyckelharpa, Celtic harp, fiddle, guitar, cittern, bouzouki, and more.
Lisa Lynne and Aryeh Frankfurter teamed up with fiddler John Weed and guitarist Stuart Mason, members of the Celtic band Molly's Revenge, to create the New World String Project. Now roughly two years old, the result has been a marriage of the Swedish and Nordic music Frankfurter and Lynne focus on with the Irish and Appalachian tunes Weed and Mason perform.
Join the New World String Project for a musical ride that will shake your boots, uplift your spirit and warm your heart.