Kate Power and Steve Einhorn – TBD at 8:00pm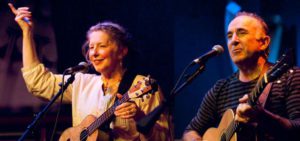 Kate and Steve have been featured as special guests on Garrison Keillor's A Prairie Home Companion. Power's song "Travis John" won the Grand Prize from Music2Life at the Kerrville Folk Festival in Texas for 'songs that make a difference' and together, Kate Power & Steve Einhorn have shared stages with many folk luminaries, including the iconic Pete Seeger and Tom Paxton.
Kate's music comes from the heart. Kate was born in Boston and came of age during the folk revival in the 60's in New York City and New Jersey and at fifteen opened shows for luminaries like Townes Van Zant and Loudon Wainwright III, and U. Utah Phillips in local coffeehouses and northeastern festivals where she established her place in the folk scene before her migration to Portland and the Pacific Northwest in 1977.
Steve Einhorn is a lifetime musician with a deep understanding of the relationship between the story and the song. Hands-on, he has been making music from an early age in the 60's in New York City to Boston and then to Portland and the Great Northwest since 1978.
In recent years, Kate and Steve have brought thousands of new players into the music making fold with their fun and easy Ukalaliens method while touring the countryside with a fleet of ukes-to-share. Their newest album, Portland Romance, was produced with Jon Neufeld (Black Prarie) and Billy Oskay (Big Red). Kate & Steve reside in Portland, Oregon.
"I am totally mesmerized by your compositions, your easy to listen to voices and great, great instrumentation. The quality of your work is outstanding. What joy you bring through your music. I would drop everything to come to hear you two." – Hal Melnick, NYC

"So earthy and fresh is your music. I love it." – Lloyd "Tommy" Doss, Sons of the Pioneers