David Jacobs-Strain & Bob Beach – Saturday June 3, 2017 at 8:00pm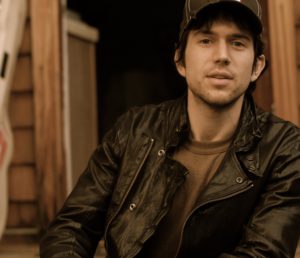 David Jacobs-Strain is a fierce slide guitar player, and a song poet from Oregon. He's known for both his virtuosity and spirit of emotional abandon; his live show moves from humorous, subversive blues, to delicate balladry, and then swings back to swampy rock and roll. It's a range that ties Jacobs-Strain to his own generation and to guitar-slinger troubadours like Robert Johnson and Jackson Browne. "I try to make art that you can dance to, but I love that darker place, where in my mind, Skip James, Nick Drake, and maybe Elliot Smith blur together." His new album, "Geneseo," speaks of open roads, longing hearts and flashbacks of Oregon– a record of emotions big and small, and lyrics that turn quickly from literal to figurative. "I'm fascinated by the way that rural blues inscribes movement and transience. The music that frees a singer keeps them on the run; there's a crossroads where a thing can be enchanting but dangerous; damaging but beautiful."
Jacobs-Strain began playing on street corners and at farmers markets as a teenager, and bought his first steel guitar with the quarters he saved up. Before he dropped out of Stanford to play full time, he had already appeared at festivals across the country, often billed as a blues prodigy, but he had to fight to avoid being a novelty act: "I wanted to tell new stories, it just wasn't enough to relive the feelings in other people's music."
David Jacobs-Strain has appeared at festivals from British Columbia to Australia, including Merlefest, Telluride Blues Festival, Philadelphia Folk Festival, Hardly Strictly, Bumbershoot, and Blues to Bop in Switzerland. He's taught at Jorma Kaukonen's Fur Peace Ranch, and at fifteen years old was on the faculty at Centrum's Blues and Heritage workshop. On the road, he's shared the stage with Lucinda Williams, Boz Scaggs (more than 60 shows), Etta James, The Doobie Brothers, George Thorogood, Robert Earle Keen, Todd Snider, Taj Mahal, Janis Ian, Tommy Emmanuel, Bob Weir, T-Bone Burnett, and Del McCoury.
"His albums are slow burning wonders…" – POPMATTERS
"This kid's gonna be a superstar and I want a cut on hisnext album" – TODD SNIDER
Bob Beach has been a working professional musician for more than 40 years, adding harmonica, flute and vocals to a broad scope of genres. A native Philadelphian, Bob relocated to Western PA after high school. From 1976 to 1997 Bob worked in bands and other musical projects based in the city of Pittsburgh. Since returning to Philadelphia in 1997 Bob has been a vital part of the local music scene. A volunteer at the Philadelphia Folk Fest since 1998 Bob has also has also performed at the fest many times since 2002. David and Bob recently released "Live From the Left Coast" recorded in Eugene, Oregon. Bob also is a sound engineer at The World Café Live music venue and books artists for the Lansdowne Folk Club, Concerts at the Beach House and other events and venues in the Philadelphia area.
www.DavidJacobs-Strain.com
David Jacobs-Strain Videos
David Jacobs-Strain and Bob Beach Video