MBRASCATU – Saturday April 8, 2017 at 8:00pm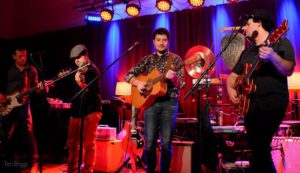 A musical product of the creative melting pot of Portland, Mbrascatu is an indie rock band that draws from diverse European and American roots to create a unique signature sound.
Blending together dynamics ranging from delicate to explosive; expressive Italian lyrics; hook-laden melodies; inventive arrangements; and energetic rhythms to dance to; the band has performed extensively throughout the Pacific Northwest, delighting audiences at the hottest music venues, outdoor festivals, bars, clubs and local radio stations.
Andrea Algieri: Guitar, Vocals, Songwriting. Dylan Dean: Violin, Viola. John Sabestinas: Electric Guitar, Banjo, Ukulele, Lap Steel. Tim Anderson: Bass. Mark Powers: Drums.
"Great news, Oregon: we can visit Italy without ever leaving the Pacific Northwest. Local Portland band, Mbrascatu, lives right here and we can take a trip to the other side of the world simply by listening to their newest savory album, Tempo. Bandleader, Andrea Algieri puts his heart and passion into every song he writes and sings on this album. The other band members- Johnny Sabestinas, Dylan Dean, Dan Sullivan and Lalo Esparza- lend their individual musical energies that also take the music to a new level of appreciation. Sabestinas plays an impressive array of different instruments ranging from ukulele to mandolin to electric guitar. Dean plays his fiddle in a way where you can feel the warmth of his ever-present smile in each song. This is the band's second offering and although it doesn't include as many ballads as their self-titled album, you will enjoy the rocking goodness found in almost every track. The tittle track will have you dancing and singing along after just one listen. So, go ahead. Pour yourself a little limoncello, eat a few olives and figs, hit 'play' and you are all set. Ciao!" – DENNISE KOALCZYK Oregon Music News Magazine. December 2014