John Reischman and the Jaybirds – Saturday April 16, 2016 at 8:00pm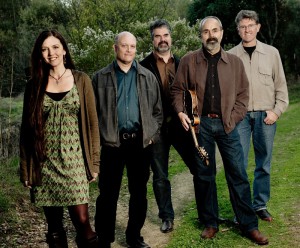 Years of European and North American tours, five critically acclaimed albums, two Juno nominations and two Canadian Folk Music Award nominations…little wonder, the buzz around John Reischman and The Jaybirds continues to grow. Like the mandolinist at its helm, the group fashions a stylish, elegant take on bluegrass that is at once innovative and unadorned, sophisticated and stripped-down, happily old-fashioned, yet unselfconsciously new. To see their live show is to believe it. A genial blend of story-telling and side-show humor provides the backdrop to their studied performance of original songs, instrumentals, and newly arranged traditional material.
Hailing from the variegated ranks of the contemporary West Coast acoustic music scene, each of these 'birds has certainly earned his wings: the list of projects they have contributed to over the years is nothing less than a short list of acoustic power houses. Together, their seamless ensemble work makes for one of the freshest, most tasteful band-sounds on the folk and bluegrass circuit today.
As FolkWax says, John Reischman and the Jaybirds offer "clarity, energy, good ensemble work, classy originals, and an adventurous approach" to the world of bluegrass and folk music — along with engaging stage humour in powerful live shows. They are what SingOut! calls " thoroughly professional ensemble with a rare ability to produce music that is simultaneously traditional and contemporary . . . the Jaybirds are a band that continues to hit on all cylinders."
"On the evidence of Stellar Jays, John Reischman and the Jaybirds are in their prime as contemporary bluegrass musicians capable of maintaining and extending the music's legacy," says Billboard.com. Bluegrass Unlimited magazine describes tone-master and composer John as "one of the world's undisputed masters" of the mandolin, a frequent accolade since his days with the Tony Rice Unit and California's Good Ol' Persons. John went on to record two outstanding solo albums and numerous sessions before forming the Jaybirds in 2001 to release a self-titled debut album, followed by the Canadian Juno-nominated Field Guide, and in 2005, The Road West.