Rita Hosking – Saturday February 18, 2017 at 8:00pm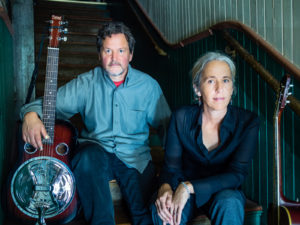 Rita's style of country-folk has been lauded for story and sense of place, and her performances praised for capturing the audience. Honors include winner of the 2008 Dave Carter Memorial Songwriting Contest at the Sisters Folk Festival, finalist in the 2009 Telluride Music Festival Troubadour Contest, and honors in the International Songwriting Contest and West Coast Songwriters Association.  "This California girl comes by her mountain-music sensibility with true authenticity, with original songs deeply rooted in her family's frontier experience," (Dan Ruby, FestivalPreview.com) and Rita's fans call her "the real deal".  A descendant of Cornish miners who sang in the mines, Rita grew up with deep regard for folk music and the power of the voice.
In this live performance, Rita will appear as a duo with Sean Feder on Dobro and banjo.
Rita Hosking is also participating in the South Coast Writers' Conference and will teach two song writing workshops earlier in the day on Saturday.  She will do a brief presentation, along with all the other authors, on Friday night at Authors' Night in the Fairgrounds Showcase Building which is free and open to the public.
"In scorching form" (UK Telegraph), Northern California's own Rita Hosking sings of forest fires, culture clash, demolition derbies, the working class and hope.  From NPR's Weekend Edition to Bob Harris's BBC show, Rita is moving audiences around the globe with her stories in song and doubly sweet and sinewy voice, "a captivating performer" – R2 Magazine