Slocan Ramblers – Saturday August 6, 2016 at 8:00pm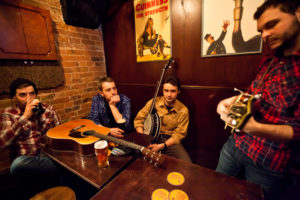 The Slocan Ramblers are Canada's young bluegrass band to watch. Rooted in the tradition, fearlessly creative, and possessing a bold, dynamic sound, The Slocans (2015 Edmonton Folk Fest Emerging Artist Award recipients), have quickly become a leading light of Canada's roots music scene, built on their reputation for energetic live shows, impeccable musicianship and their uncanny ability to convert anyone within earshot into a lifelong fan.
On their new album, Coffee Creek (2015) The Slocan Ramblers blend lightning fast and devilishly intricate instrumentals with the sawdust-thick vocals of singer Frank Evans, who takes lead on songs ranging from rowdy old-time numbers like "Groundhog," to a Dustbowl classic like Woody Guthrie's "Pastures of Plenty." "Toronto audiences don't respond to a clean, polished Nashville sound," tune composer and mandolinist Adrian Gross explains. "They dig a lot of energy in their music, a rowdy bar vibe. They're hard to win over." But The Slocan Ramblers have won them over, moving from a young ensemble of bluegrass pickers to one of the best known Canadian roots bands. They've done this by staying true to the roots of the music, not seeking to revive anything but rather to tap the rough and rowdy heart of the music.
This is roots music without pretension, music intended to make you feel something, music to get you moving in a crowded bar. The Slocan Ramblers recorded Coffee Creek the same way they perform on stage: standing up, leaning into the music, and pushing harder and harder for that edge just beyond.
"What really impressed me while we were working on this album, was that, while they can pull off the precision and virtuosity that is at the backbone of bluegrass, they understand the power of the fragile moment in music. The fragile moment used to be a big part of what made an album cool–Monroe singing just beyond the edge of his voice, the moment right before you realize Vassar isn't lost–the moment on and beyond the edge." – Chris Coole (Foggy Hogtown Boys) friend of the band and mentor