Gideon Freudmann – Saturday July 23, 2016 at 8:00pm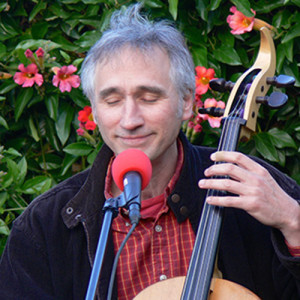 Gideon Freudmann, cellist and composer, has been on the forefront of that instrument's modern creative expansion for more than 30 years.
In the early 1980s, Gideon's formal education at the University of Connecticut laid a solid classical foundation for what has become a diverse soundscape encompassing a wide range of musical genres.
Gideon first came to the public's attention as one half of 'Holiday Clocks', a raucous cello, guitar and vocal duo playing original and traditional folk tunes. After establishing a fan base in its home town of Storrs, CT, the duo made its way first to Boston, then to the Pioneer Valley, where they soon became local favorites at the Iron Horse Music Hall, among other local venues.
After debuting their first LP, 'Holiday Clocks', and recording a follow up (More Batteries), the act disbanded, and Gideon moved on to release a series of cassette albums. He also recorded his first solo CD, "Fellini's Martini with a four-piece band (The Frog Project). ". At the same time, Gideon became a mentor and tutor, helping to train other cellists and introducing children to the instrument as a touring member of the Young Audiences network.
During the early 1990s Gideon continued developing his repertoire through both, solo and collaborative work (including co-founding the duo BROQUE, providing live accompaniment to dance troups, and many other engagements. Among the many innovative musical avenues he followed was to adopt the electric cello to craft the sound for which he is most known today. Using foot-operated effect pedals, he took his live performances into new territories of looping, soaring, multi-layered compositions and improvisations.
His East Coast success established, Gideon moved to Portland, Oregon in the mid-2000s where he is a founding member of the Portland Cello Project and the band Caravan Gogh. He has also branched into live soundtrack accompaniment to silent films.
"Taking a modern artist's approach to the four-stringed instrument, Gideon Freudmann has brought the cello to a new realm. His latest album is a dreamy, cinematic tour-de-force!"- The Boston Globe

"Freudmann sounds like nothing less than a cutting-edge, avant-garde musician, whose genre-bending exploits combine aspects of performance art, new-classical, psychedelia and comedy, a sort of cross between Kronos Quartet and Leo Kottke." – Berkshire Eagle

"Gideon is sharp, witty, prolific, talented… A cross between Woody Allen, Frank Zappa, and a touch of Peter Schikele" – Maine Public Radio

"From first note to (deep breath) last, this CD is a treasure. Chock full of beautiful, infectious melodies and jaw-dropping musicianship, it never grows tiresome. If I had to choose just one CD to listen to for the rest of my life, it would be this one.A Masterpiece" – Margaret Nelson on BROQUE: Ghost in the Attic

"Truly a musical innovator, cellist Gideon Freudmann is a musician with a tremendously creative, genre-bending outlook toward his compositions… Part classical, part Beatle-esque pop, part pickin' and grinnin'." – The Valley Advocate