The Quitters – Saturday May 12, 2018 at 8:00pm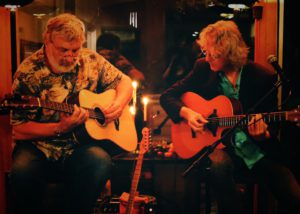 A guitar duo of right-side up finger picking (Stevie Coyle) and upside down flat picking (Glenn Houston). The Quitters deliver a performance spiced with humor and serendipity.
Glenn Houston (nee Pomianek) has been voted Best Guitarist by the Northern California Bluegrass Society, is a past judge of the National Flatpicking Guitar Championship Competition in Winfield, Kansas, and was the founding lead guitarist of the Waybacks, co-founder and long-time lead guitarist for Bammie (Bay Area Music Award) winners Hearts on Fire, and co-founder and long-time lead guitarist for the powerhouse Americana quintet Houston Jones.
Originally from New Jersey, Glenn's guitarist influences range from Albert King and Michael Bloomfield to Doc Watson and James Burton. These influences show in his well-balanced mastery of both acoustic and electric guitar.
Over the years, Glenn has shared billing with such luminaries as Emmylou Harris, Merle Haggard, the Tubes, the David Grisman Quintet, the Nitty Gritty Dirt Band, Bela Fleck, Tim O'Brien, Hank Williams Jr., Steve Earle, John Hartford, Earl Scruggs, Doc and Merle Watson, Willie Nelson, Waylon Jennings and Delbert McClinton. Glenn has been the lead guitarist for country great Johnny Paycheck, and has performed and recorded with Grammy winner Ramblin' Jack Elliott. With his strong background in electric blues, Glenn has performed with blues legends Mark Naftalin (Paul Butterfield Blues band) and Nick Gravenites (Electric Flag) in tribute to Mark and Nick's late band mate, blues great Michael Bloomfield.
Glenn's classical music background includes choral vocal performances with the Los Angeles Philharmonic (Zubin Mehta conducting, Beethoven's Ninth Symphony, at Carnegie Hall and the United Nations General Assembly [the U.N.'s 25th anniversary celebration]), and the Boston Symphony (Erich Leinsdorf conducting, Brahms' Requiem, at Carnegie Hall).
Stevie Coyle (late of the whiz-bang string band The Waybacks) is one lucky bum. His dad ran a radio station in southern California and brought home all the promo LPs that didn't fit the Spanish-language format. The Ventures' Guitar Freakout and Alvin & The Chipmunks Play The Beatles' Hits both came home on a single fateful day.
It didn't hurt, either, that string-meister David Lindley played in a bluegrass band that rehearsed right next door and gave Stevie his very first lessons, or that his dear Granny was a pianist in the heyday of vaudeville, or that his sainted mother was a whiz in mandolin orchestras of the 1930s. Not even several years of playing Folk Masses on Sundays could quash his musical spirit.
After securing degrees in Theatre and Theology at Santa Clara University he hit the road for 3 years with The Royal Lichtenstein Circus. Once back home, he signed on as actor / stage manager for San Jose Rep. He announced killer whale shows. His best friend was an elephant.
He and pal Roy Zimmerman have worked closely in several collaborations over the years, including folk tribute / parody band The Foremen and comedy duo The Reagan Bros. The boys were regulars at The Comedy Strore and The Improv. Stevie appeared on Cheers, in many television commercials and had a recurring role on The Young And The Restless.
Hey, wake up!! We're almost done.
Safely back in the Bay Area, he continued his acting career, doing commercials, voiceovers and films, and played in the folk duo The Frontmen. He co-founded The Waybacks in 1999 and fronted that band through 2007. They released 4 albums in that time, played major festivals like Merlefest, Grey Fox, Floydfest and Hardly Strictly Bluegrass, toured Australia and collaborated with Lloyd Maines, Michelle Shocked and Bob Weir of The Grateful Dead.
Stevie's gone feral and solo now. He's also released his first solo CD, Ten-In-One, produced by guitar guru Walter Strauss.
"Stevie Coyle and Glenn Houston make up the dynamic guitar duo, The Quitters. Having each quit some of the best bands in the business, both are late founding members of The Waybacks and each have performed at Strawberry in other configurations. Stevie Coyle has a long and illustrious career as an entertainer that began well before birth and Glenn Houston's well decorated history in music is best known to berry heads for his founding role of powerhouse Americana quintet, Houston Jones. As individuals, both are renowned players in music circles. Now they have joined forces, to the delight of California audiences, to become a right-handed, right-side up fingerpicking and left-handed upside down flatpicking twosome. Mostly acoustic. Some electric. Much serendipity." – Strawberry Music Festival